About the Project
The Highway 407 East Phase 2 Project will:
Extend Highway 407 as a four-lane highway about 22 kilometres, from Harmony Road in Oshawa to Highway 35/115 in Clarington;
Connect Highway 401 and Highway 407 with a 10-kilometre north-south, four-lane freeway numbered as Highway 418;
Include freeway-to-freeway interchanges at Highway 401/Highway 418 and Highway 407/Highway 418;
Include a freeway-to-freeway interchange at Highway 407/Highway 35/115;
Include interchanges at:

Highway 407 at Enfield Road;
Highway 407 at Regional Road 57;
Highway 407 at Darlington Clarke Town Line;
Highway 418 at Highway 2;
Highway 418 at Taunton Road (partial interchange); and
Establish a supporting maintenance facility

Construction is well underway with Highway 407 open to Enfield Road. It is anticipated that the entire project will be open to traffic by 2020.
This Project will cost approximately $1.2 billion, which will include design, construction and Operations, Maintenance and Rehabilitation of Highway 407 and Highway 418 for 30 years after Phase 2A of the Project is open to traffic.
This project is proceeding under Infrastructure Ontario's Design, Build Finance and Maintain model.
Highway 407 and Highway 418 will be owned by the Government of Ontario.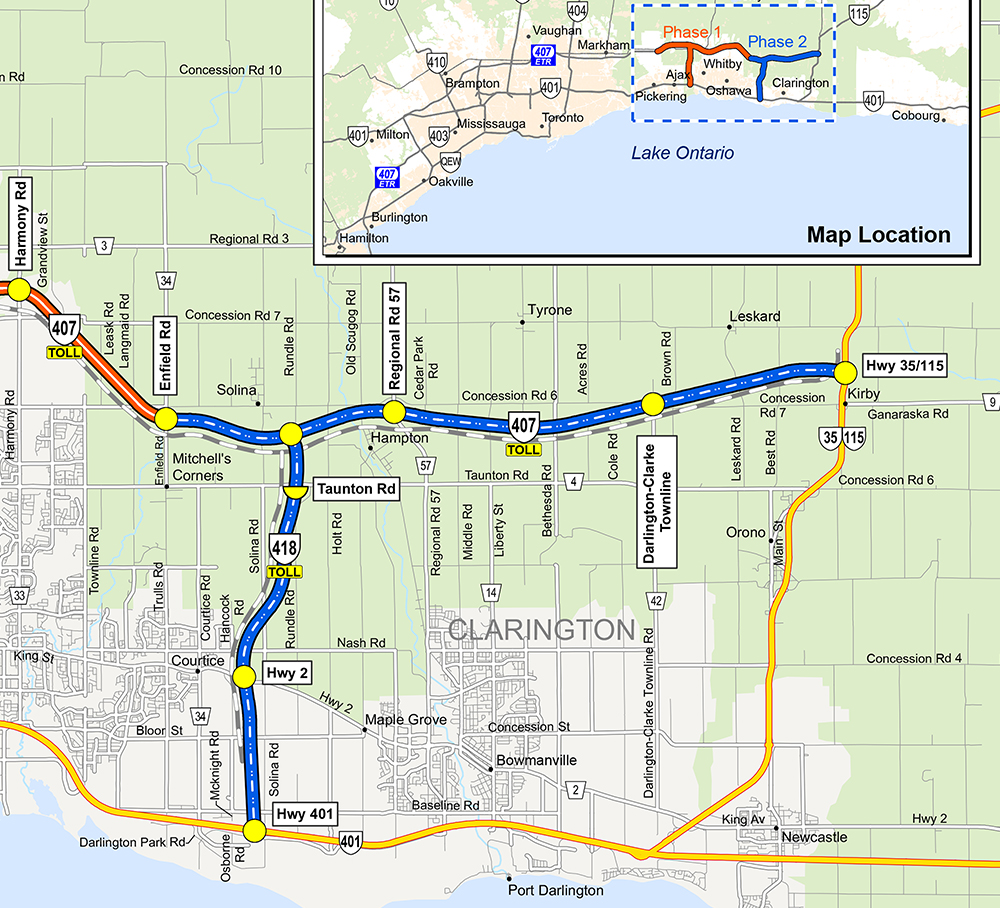 About Blackbird
Infrastructure Ontario selected Blackbird Infrastructure 407 GP (Blackbird) in March, 2015 as the consortium to design, build, finance and maintain Highway 407 East Phase 2.
Blackbird Infrastructure is a partnership between CRH Canada Group Inc. and Cintra Infraestructuras.
Cintra is one of the world's leading private sector developers of transportation infrastructure in terms of the number of projects and the volume of investment. It currently manages over 2,180 kilometers of toll roads in 27 concessions in Canada, the US and Europe.
CRH Canada Group Inc. is one of Canada's largest vertically integrated building materials and construction companies, manufacturing cement, aggregates and ready-mix concrete. Dufferin Construction Company, a division of CRH Canada Group Inc., is one of Ontario's leading construction firms with over 100 years experience building infrastructure in Ontario.
Tolling Information
Tolling has begun on the province's new Highway 407 and Highway 412. Similar to Highway 407 ETR, Highways 407 and 412 are all-electronic, open-access toll highways without booths or barriers. For tolling-related matters (e.g., transponders, billing, invoices, plate denial status), related to Highway 407 and Highway 412, customers may contact 407 ETR, the service provider for tolling of Highway 407 and 412, using one of the following methods.
Ethics Channel
407 BBI provides a dedicated and secure communication channel as a way to report questions, complaints and/or concerns that are related to the principles and commitments set forth in the Corporate Code of Ethics, as well as any irregular situation, breach, unethical behavior or conduct that conflicts with the laws and/or regulations applicable to this group, including but not limited to fraud and corruption, anticompetitive practices, violation of human rights or environmental issues. All communications sent through the Ethics Channel, including any relevant documents uploaded by the sender, shall be confidential. The sender will be protected against any retaliation.
Investigations shall be carried out in an objective, thorough and diligent manner with the utmost care and consideration in accordance with internal procedures and applicable law.